Experience The Art of Coffee
Meet SCULPTOR, the latest electric coffee grinder that you can enjoy freshly ground barista-quality coffee at home.
With a unique design path, Sculptor - the next generation of TIMEMORE Electric Coffee Grinder features the highest quality turbo/flat burrs and a unique cleaning mechanism that provide you with perfect coffee. For more information, check us out on Kickstarter.
COFFEE IS ABOUT PRECISION
If you are looking for an accurate, responsive and reliable scale for your coffee brewing, look no further. TIMEMORE Black Mirror+ represents a great combination of sleek design and robust functionality for coffee enthusiasts.
SIGNATURE C SERIE GRINDER
Upgraded from signature C2/C3 coffee grinders, TIMEMORE C3 Pro is equipped with high performance stainless burr and foldable hand crank for more consistent grinding results, travel friendly, and unbeatable value.
AESTHETIC AND PRECISE
High Precision and Ultimate Aesthetics are built into this new flagship coffee grinder. TIMEMORE XLITE is crafted with patented S2C burr which delivers highly consistent grinding results for a cup of flavorful coffee.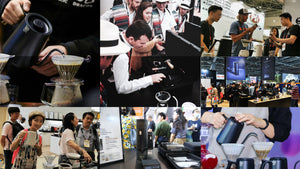 WSC CBrC CBC Coffee Competition Sponsor
What Customers are Saying
★★★★★

The Timemore nano scale is a must if I want my coffee to taste the same same everytime I brew a cup. This scale is so precise that the amount of coffee bean/grinds is virtually identical every time. Plus, I do like that this is portable and not needing to be plugged in. it also have a battery level to let me know when to charge.

Friscokid
★★★★★

Timemore Coffee Scale is a precision piece of equipment for the serious coffee connoisseur. This is someone who knows everything about coffee – the beans, the roasts, the sources and the equipment. If you're serious about the taste of your brew measuring must be with absolute precision. When you see the difference a good scale can make you'll never go back to scooping again.

Barbara
★★★★★

This is the best manual coffee grinder I have used. This grinder looks nice, it functions great, the coarseness is easy to adjust, the outer coating has a nice grippy feel to it, the top handle is easy to get on and off, the top handle does not fly off while spinning it, it is quiet while grinding, it has a soft silicone base, it does not squeak.

MC
★★★★★

How cool is this little Nano grinder! You can take this anywhere. It's small and compact. True you're only grinding a cup at a time but isn't that the only way you can drink coffee? Great grinder for a fresh brew!

Cupkate